Ecommerce in Sweden to reach 6.2 billion euros in 2016
Ecommerce in Sweden increased by 15 percent during the first quarter of this year compared to the same period last year. For the whole of 2016, an increase of 16 percent is forecasted, which would mean ecommerce in Sweden will be worth 58 billion kronor, or 6.2 billion euros, in 2016.
Postnord today published the E-barometern [pdf] for the first quarter of 2016, in which they shared these numbers about ecommerce in Sweden. It analyzed lots of data and found out for example that the DIY sector increased the most during the first three months of this year.
DIY is booming in Sweden
"Ecommerce in Sweden continues its steady growth", the postal company wrote in an accompanying press release. Due to an increased focus on multi-channel sales and the growth of mcommerce in the Nordic country, ecommerce is predicted to increase by 16 percent during this year. Among the sectors that grew the most during the first quarter, are Furniture, Children's Items & Toys and DIY. The latter increased the most, by 36 percent. The most popular product categories, in terms of absolute figures, during Q1 were Clothing & Footwear and Media.
"The DIY sector is growing from low levels, but the high figure is not accidental, because the industry in general is strong. Consumers have clearly discovered the convenience and ease of shopping online", says Carin Blom, retail analyst at PostNord.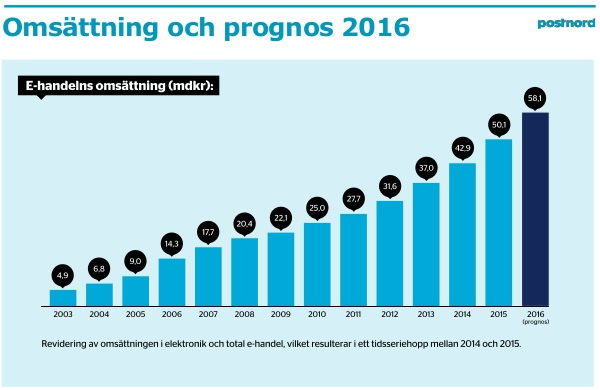 Consumers want to choose delivery method
Three out of four consumers say it's important to them they can choose how a product will be delivered, but just under a half of consumers (46 percent) say they had the option to choose how the goods will be delivered. One in five consumers even abandoned an online purchase because they weren't able to choose the delivery option.
"The difference between the demand for shopping options and the range of online retailers who offer this, shows a great potential for growth", Blom comments. "In the same way, choosing your preferred payment method is now an integral part of ecommerce, consumers should be able to choose how they want their goods to be delivered: at home, at work or somewhere to pick up."