Ecommerce logistics
Logistics are essential for ecommerce business owners. Keeping your own stock and packing orders yourself is one thing, but for delivery you usually depend on a carrier. You can even outsource the entire fulfillment process from storage to delivery. How do you streamline your ecommerce logistics?
Content:
What is the ecommerce logistics process?
Simply put, logistics is getting something from point A to B. The complete supply chain, from manufacturing, to purchasing inventory to the delivery of the final product to a consumer falls under ecommerce logistics.
An efficient ecommerce supply chain is essential to online stores.
For an ecommerce business it also includes the storage of products and the safe and correct packing of ordered items. The ecommerce supply chain is essential to an online store, it needs to be done efficiently, so that customers will continue ordering products from that store.

Do you want to send packages with DHL, GLS, UPS and specialist carriers? Or use different carriers per country or size or weigth of the package? Sendcloud specializes in logistics software for online stores.
Setting up logistics for your online store
Whether your online shop is big or small, efficient inventory management and ecommerce logistics are always a point of concern.
When you are just starting a new ecommerce business, you might wonder how to finance your inventory. Soon you will be wondering how much inventory your business needs, or how to deal with excess inventory.
Looking to outsource your fulfillment and to offer next day delivery in Europe? Active Ants, Huboo.com and SaleSupply.com are fulfillment partners with multiple European warehouse locations.
Brick and mortar stores often place their products and logistics process within those retail locations, but many ecommerce businesses store their inventory in a warehouse or a distribution center. After an influx of online orders or inventory expansion, you may find your warehouse lacking space. Or maybe you end up spending hours upon hours on order picking. That's when most businesses start optimizing their ecommerce logistics. Regularly assessing the storage management and supply chain can save a lot of time and money.
Regularly assessing your storage management and supply chain can save time and money.
Managing your inventory resources
If you manage your storage in house, the first order of business of setting up your logistics process is finding a racking system.
This system needs to fit the size and weight of your products. Will you use pallet racks, wide span storage racks or shelf racks? Consider how people move through the warehouse when order picking too. A smaller aisle means more storage space, but can become impractical with multiple picking carts. Lastly, classifying your products by name, colour code or popularity can prevent unnecessary searching.
Consider automating processes to streamline your supply chain.
To further streamline your inventory management, consider automating certain processes. Stock management software can be a godsend for keeping track of your stock in one central database. Such an inventory management system can also tell you which products are running out fast or are typically ordered together. With this information you can arrange these products in your warehouse more efficiently.
Order picking
Order picking refers to the process of picking and preparing items for shipment. If you do not have any systems in place for order picking, you can end up endlessly walking down aisles looking for the right products. When you are first starting out with your shop, this part of ecommerce logistics will not yet be an issue. But once your online shop grows, and your items are not arranged efficiently, order picking can be a burden on your operation.
For starters, make sure your bestsellers are nearby and at eye level. This can already shave off significant walking time. And if products are often ordered together, make sure they are next to each other in the warehouse.
Using inventory management software will help you find out where you can best store certain products. Seasonal inventory, for instance, shoudl be stored on a warehouse mezzanine – an extra platform between floor and ceiling.
Once your online shop grows, order picking can become a burden.
There are some tools for order pickers that can further optimize your warehouse. This is especially beneficial when you have large order volumes or multiple order pickers. Barcode scanners, for example, will show which items to pack. There is also voice picking, where items are communicated through headphones and you confirm by speaking. This can eliminate any mistakes and will speed up the packing process. Keep in mind that you will need warehouse management software to connect with the device.
Packing orders
Packing your orders is the next step in the logistics process. Most importantly, packaging should protect your products during transportation. It should be resistant to weather conditions and prevent slipping and sliding of items. Therefore, make sure the packaging fits properly or add some filler material inside. It should also be suitable for possible returns.
Sustainable, well-fitting packaging material is more cost-efficient.
Furthermore, your packaging can be a form of marketing in itself. It is the first thing a customer physically sees of your online shop, so you will want to make a good impression. More importantly, if your packaging is way too big or uses a lot of unnecessary plastic, it is damaging to the environment and your customer will not be pleased. Packaging material that fits your product and is not overly wasteful is also more cost effective.
Reduce shipping costs
After picking and packing an order, it is finally time to send it off to your customer. Of course, ecommerce retailers can go to the post office, who will take care of the shipment, including a track and trace code. However, this means you will pay the full price for shipping items to your customer.
Alternatively, you can get your own contract with a regional carrier and get small shipping discounts. But even then your ecommerce business is probably overpaying for the logistics.
You will need enough volume to get the best offers from postal carriers.
You will need enough volume to get the best offers from major shipping carriers like DHL, DPD and GLS. To do this, you can use shipping platforms. These companies usually have thousands of ecommerce brands under their wings, which is why they can offer better pricing. When choosing a platform, make sure they offer your carrier of choice.
Usually a shipping platform comes with its own shipping software. As you may already know, processing online orders, printing address labels and managing returns can become a tiresome process. With shipping software, you do not have to manually process individual shipments anymore. The program can automatically create address labels, track and trace-emails and return forms. Do make sure the software integrates with your ecommerce software too.

Outsourcing fulfillment
Most online stores will start out keeping their own stock, picking their own orders as well as packing and shipping them. This process from order picking to shipping is also known as fulfillment.
Once your online business starts growing, you can choose to move to a bigger warehouse and hire some staff. But once fulfillment becomes a headache, a lot of ecommerce retailers choose to outsource all or parts of the stocking and shipping processes with a fulfillment partner.
Fulfillment centers can take over your logistics after rapid growth of your ecommerce brand.
Ecommerce fulfillment companies store inventory from their customers, usually an ecommerce brand, in fulfillment centers. You can outsource all of your warehouse management, including storage, order picking, packing and shipping. They usually have ,many integrations available with ecommerce platforms, which makes it easy to integrate your shop with their logistics network.
It also often includes inventory management. Some companies also do your reverse logistics, meaning that they can take returns from customers out of your hands too. Even processing payments, customer service and product photography can be outsourced if you want to, but fulfillment mostly refers to the whole process of sending parcels up to the customer's doorstep.
Looking to outsource your fulfillment and to offer next day delivery in Europe? Active Ants, Huboo.com and SaleSupply.com are fulfillment partners with multiple European warehouse locations.
Fulfillment companies: pros and cons
The biggest benefit of fulfillment centers is that they have fully optimized their warehouse processes and logistics to be as efficient as possible. Buying a packing machine may be too expensive for your store, but since fulfillment companies are specialized in moving bulk quanitities, you can benefit from new technology for low costs. Their advanced warehouse management system can give you valuable insights. And their assembly lines are fully equipped for peak season, which can save you a lot of stress.
Additionally, a fulfillment center will have a higher parcel shipping volume, meaning that prices for shipping will be much lower. Outsourcing these logistics can also open up more delivery options, which will increase your store's conversion. If you add these options yourself, it will split up your parcel volume with multiple carriers meaning you will probably pay more. With a fulfillment company you can easily realize next day delivery with cut-off times as late as midnight, for example.
Fulfillment centers have fully optimized their ecommerce logistics.
You may expect that third-party fulfilment is too expensive, but that is usually not the case. While you have some additional costs, you are also saving time and money on warehouse operations, management software and educating staff. The only thing to keep in mind is that you will lose some control over the fulfillment process. If a customer asks about a return parcel, you can not easily go grab it for them, for instance.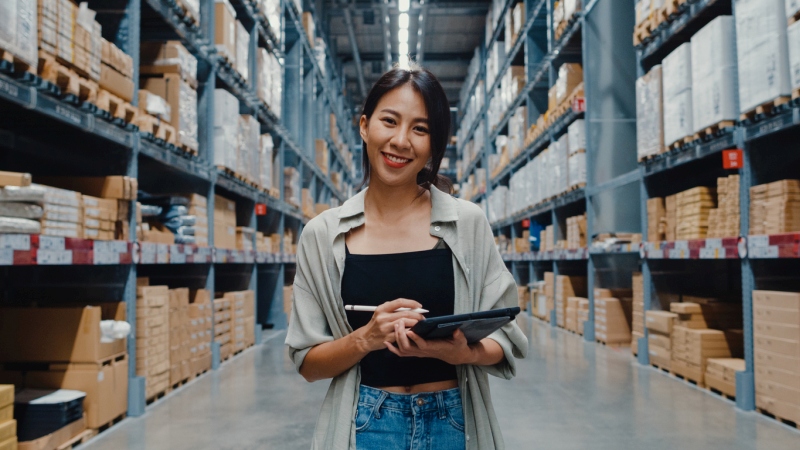 Dropshipping
Another way of outsourcing the logistics is dropshipping. Dropshipping means you outsource your inventory.
You do not have to buy and store your own inventory, because the supplier will ship items right from their own warehouse. Online shoppers place an online purchase in your shop, but after that, the dropshipper takes care of the logistics process.
Dropshipping means your supplier takes care of all the logistics.
Dropshipping can be interesting. You do not have to manage stock and therefore will not end up with an empty shelf or excess inventory, for example. And because you do not have to store items yourself, you can easily expand your product range. Dropshipping can also be beneficial for faster and cheaper delivery, as a dropshipper will have a high parcel shipping volume and more delivery options available.
Who uses dropshipping?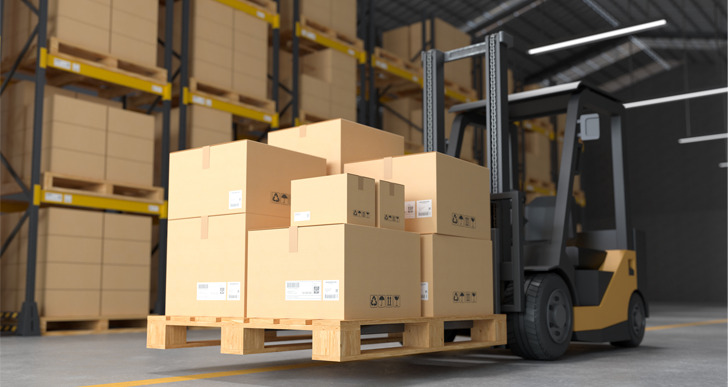 You might think dropshipping is best suited for brand new shops. On the contrary: items from dropshippers have lower profit margins because of the storage and shipping services.
The products can also be sold by multiple shops and are not unique. Therefore, it is most popular with growing ecommerce companies that already have customers but want to expand their inventory with little effort.
Dropshipping is also good for trying out a new product and seeing if there is demand, without already stocking up on it. Furthermore, dropshipping can be an excellent strategy for niche products that are not ordered that often. After all, it will not take up space in your own business and you do not have to constantly keep it in stock. With dropshipping, you can still offer these items to customers.
With dropshipping you can try out a new product, without stocking up on it.
Lastly, dropshipping can be a nice add-on to your existing stock. It does not have to be all or nothing. Dropshipping can be a way of spreading store inventory risks. For instance during peak season, you can use a dropshipper as an extra buffer for storage and shipment.
Frequently asked questions
Frequently asked questions about ecommerce logistics are:
What is ecommerce logistics?
Ecommerce logistics refers to the complete supply chain: from buying and storing inventory, to the online purchase made by an online shopper, up to the order fulfillment by delivering it to the end consumer.
The ecommerce logistics process also includes reverse logistics. As an ecommerce brand, you will need to accept and process returns from online shoppers.
How do I streamline my supply chain?
To set up your logistics of your online store, you will need to find a space to store your inventory. You can use storage racks and inventory management software to keep track of all your items. Make sure that this software can be linked to your ecommerce platform, so that you will not sell items that are out of stock.
You could also outsource your supply chain.
To gain a competitive advantage, you could also outsource your supply chain. A fulfillment center can ship bulk quantities of orders for you because it has the tools to do so. This way, it provides a fast delivery while your business grows.