Ecommerce in Sweden increases by 18% during Q2
The ecommerce industry in Sweden has shown significant growth during the second quarter this year. The online retail sector saw its sales increase by 18 percent during these three months, compared to the same period last year. Expectations are the ecommerce industry in Sweden will be worth 58 billion Swedish kronor, or 6.08 billion euros.
This has become clear after PostNord published its latest E-barometer, in collaboration with the Swedish Digital Trade and HUI Research. The increase of 18 percent is stronger than what was shown in the first quarter, when online sales grew by 15 percent. During the second quarter of this year, it was especially sales in the food sector and the building trade that performed well, as they increased by 38 and 37 percent respectively.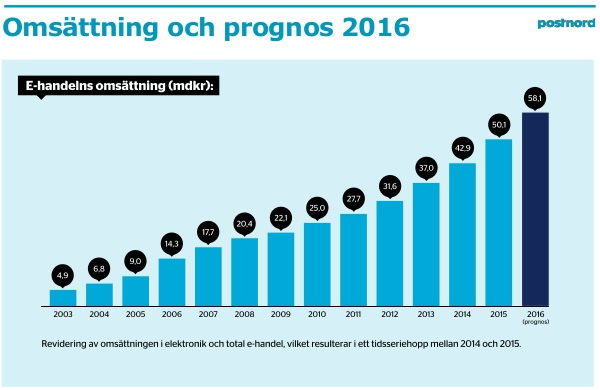 'Online food industry in Sweden is booming'
"Food is an industry that's absolutely booming, but the growth still comes from low levels", says Carin Blom, retail analyst at PostNord. "However, there are good conditions for online sales to grab a larger share of total sales. Also, because the big chains are now online and new innovations and services have launched, which can drive the market."
Whereas, 17 percent of Swedes bought products and service from foreign websites in the first quarter, this share has increased to 21 percent during the second quarter. That's mostly due to the fact more people order clothing and shoes online at foreign websites during spring. Swedes buy mostly from China, the United Kingdom, the United States and Germany.
"You can't avoid the fact we are now global consumers", Carin says. "Consumption from China is growing and the country is the largest foreign market for four of the eight industry categories – consumer electronics, clothing and shoes, baby goods and toys, and furniture and home furnishings."
Swedes have good experiences with cross-border shopping
While there are still many consumers who have problems with shopping cross-border online, more than 90 percent of Swedish consumers who have shopped abroad, didn't experience any problems. And a similar share of people who had contact with a foreign ecommerce company's customer service was pleased with how it went. Only 9 percent of consumers who shopped at foreign ecommerce websites returned an item that wasn't broken or anything.