Ecommerce in Russia to reach 19.74 billion euros in 2019
The online sales of physical goods in Russia is expected to reach about 19.74 billion euros at the end of this year. In 2023, ecommerce in Russia is forecast to be worth almost 45 billion euros.
Ecommerce in Russia is entering an accelerated development cycle. Ecommerce in Russia is entering an accelerated development cycle. Multiple big online retailers see their revenues grow annually between 50 and 150 percent. That's the situation outlined by EDWN, which wrote a report on market trends, major player and investment deals in Russian ecommerce.
16.35 billion euros in 2018
In 2018, ecommerce in Russia was worth 1.15 trillion rubles (16.35 billion euros), which is an increase from 19 percent compared to the situation in 2017. These statistics, originally from Data Insight, don't include cross-border sales nor the sales of services or digital goods. Physical ecommerce in Russia, excluding cross-border sales, accounted for about 5 percent of total retail sales.
Ecommerce joint ventures aim for leadership
Although, there are many big online retailers in Russia, there's no predominant player. Wildberries is the biggest online retailer in Russia, while Citilink, Ozon and Lamoda are also major players and soon, giant ecommerce joint ventures such as the one formed by Alibaba, Mail.ru and Megafon, or the Yandex Market group of companies (Yandex.Market, Bery, Bringly) could change the game.
Turkish ecommerce companies enter the market
When it comes to cross-border ecommerce, online retailers from China still dominate the market. But Western online retailers are becoming more and more popular, while new players from countries such as Turkey are entering the market.
Popular payment methods in Russia
When it comes to paying for the goods Russian consumers buy online, e-wallets are a very popular method. As a matter of fact, 71 percent of urban Russians aged 18 to 55 use electronic wallets for online purchases, a Mediascope survey in 2018 showed. In Russia, there are several popular e-wallets. The most popular one is Yandex.Money, followed by WebMoney, QIWI and PayPal.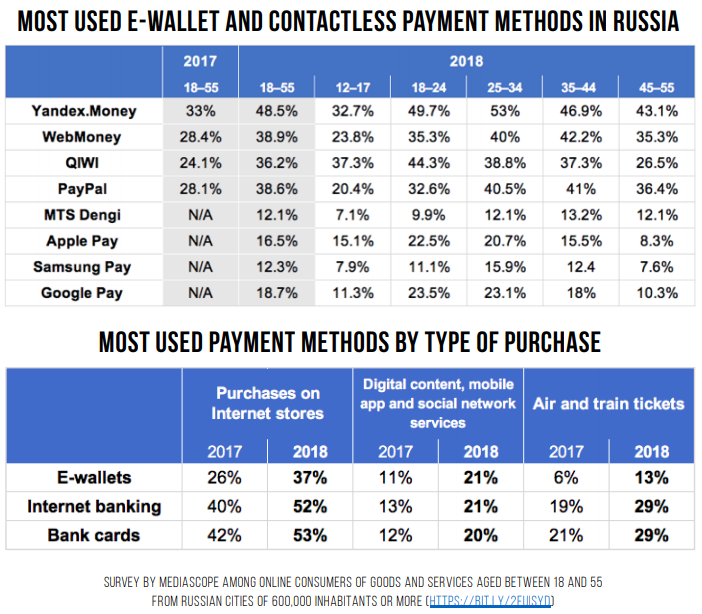 'Pay attention to Russia's personal data laws'
EDWN warns that, although there are no major obstacle for international players to succeed, foreign ecommerce and online payment companies should pay particular attention to Russia's personal data laws. "These are different than Europe's GDPR and may require substantial adjustments in data collection, processing and storage."