Fulfillment companies Europe
Storage and order fulfillment services are an important part of being an online retailer, but also very time consuming. An european ecommerce fulfillment company can take care of the entire logistics process for you, including storage, preparing orders and shipping. In this overview you will find some of the best ecommmerce fulfillment companies in Europe.
As an online seller, you probably start out taking care of storage and shipping yourself. But once orders start increasing, this can quickly become a burden. Of course you can move to a bigger warehouse and hire extra staff. But maybe you do not want to. The alternative is to outsource to a specialized fulfillment center, which acts like a warehouse and distribution center in one.
List of European ecommerce fulfillment companies
There are many fulfillment providers that operate across Europe. This is especially important when you sell cross-border. Below, you will find some of the most popular European fulfillment providers. Do you want to outsource shipping but manage and keep your own stock? Take a look at our list of logistics companies.
Active Ants
Active Ants is a cross-border fulfillment company with locations in the Netherlands, Belgium and Germany. The company is known for its large-scale use of order picking robots. Retailers can outsource logistics but also product photography, customer service and payment. Active Ants processes around 4 million parcels per year. Because of its fast-paced growth, it was acquired by Belgian postal service Bpost in 2018.
Direct Link
Direct Link is part of PostNord and offers cross-border ecommerce solutions. The company provides mail and parcel distribution as well as warehouse logistics. The fulfillment provider has offices worldwide, including 4 countries in Europe: Sweden, Poland, Germany and the United Kingdom. Mother company PostNord delivers around 198 million parcels per year.
Salesupply
Salesupply offers national and international solutions for storage and logistics as well as customer service. The company works with fulfillment centers across the world, among them 10 European countries: Switzerland, Denmark, the Netherlands, Belgium, Germany, France, Italy, Spain, Poland and the United Kingdom.
Huboo Fulfillment
Huboo is an order fulfillment company from the United Kingdom, with additional offices in the Netherlands and Spain. The company offers order picking, storage and shipping as well as returns. Inside Huboo's warehouses, retailers get a micro-hub with their own hub manager for a more personal service. The e-fulfillment player ships to 27 countries in the European Union and delivers over 5 million parcels per year.
FedEx Fulfillment
FedEx is a delivery and fulfillment company from the United States, with European offices in France and Germany. The fulfillment center network processes over 210 million shipments across Europe per year, delivering next day to more than 75 thousand European addresses. After taking over TNT in 2016, FedEx became one of the biggest delivery companies in Europe.
Amazon (Fulfilment by Amazon)
Fulfilment by Amazon (FBA) is the fulfillment solution for sellers on Amazon. You can also use FBA to sell up to half of the stored products on other platforms, like your own store. FBA offers order picking, packaging and shipping as well as returns and customer service. Amazon has over 175 fulfillment centers around the world with 40 of them located across Europe. Italy and the United Kingdom are their biggest markets, with respectively 140 thousand and 750 thousand parcels in 2020.
Bol.com (Logistics via Bol.com)
Bol.com is the largest online store in the Netherlands and Belgium. As a seller on the platform, you can let Logistics via Bol.com take care of storage, order picking and returns. Merchants can also choose to only outsource shipping. Bol.com has six warehouses across the Netherlands, accounting for 500 thousand square meters.
Byrd
Byrd is an e-fulfillment company that is active in Austria, France, the Netherlands, Germany, Italy, Spain and the United Kingdom. It offers storage, order picking and shipping and software to optimize the logistics and fulfillment process. The company currently has over 20 fulfillment centers across Europe and serves 200 customers.
Octopia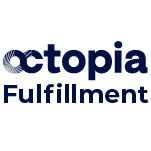 Octopia provides cross-border retailers with ecommerce fulfillment services across Europe. They ship more than 20 million parcels per year to over 20 European countries from their warehouses in France, with more than 540 thousand square meters storage space. The company also provides customer service and a cloud-based solution for selling on marketplaces.