Warehouse management system (WMS)
Whether you have a small online store or multiple warehouses, a Warehouse Management System (WMS) can optimize your fulfillment process. With warehouse software, you can take on more orders, offer faster shipping and save costs by lowering the risk of being out of stock or left with excess inventory.
What is a warehouse management system?
A Warehouse management system (WMS) is software to optimize your ecommerce fulfillment, from processing orders to stock control and order picking.
WMS software is essential if you want to grow your ecommerce business. It can automate your warehouse operations by providing data and analytics. Fulfillment software programs can help answer questions such as: which products are at risk of becoming excess stock? What are my best selling products or product categories? And: when do I need to buy new inventory?
Logistics software can optimize your ecommerce fulfillment.
WMS software is different from ERP systems, which stands for Enterprise Resource Planning. While ERPs also support stock management and purchasing inventory, it is more complex and expensive. This type of software will also offer tools for marketing, sales and accounting. Therefore, ERP systems are best suited for large ecommerce businesses with multiple physical locations and warehouses. If you own one warehouse, you will be fully equipped with a WMS.
Do you want to send packages with DHL, GLS, UPS and specialist carriers? Or use different carriers per country or size or weigth of the package? Sendcloud specializes in logistics software for online stores.
Benefits of warehousing software
Using WMS software has several benefits for your online retail business. First of all, fulfillment software can offer data insights and even forecasts of your stock levels. This means you can maintain a healthy stock. For example, you will never run out of your best selling product. Purchasing inventory from your supplier will also take a lot less time and money, since you can order exactly what you need when you need it. Moreover, a WMS can save costs by lowering the risk of dead stock.
A warehouse program also enhances order processing. It can optimize your order picking routes in the warehouse and prevent packing errors, for example. And because you pick and pack orders more efficiently, you can deliver parcels to customers faster.
Warehouse management systems can save costs by lowering the risk of dead stock.
Furthermore, you can manage your returns with WMS software. Returns often take a lot of time and effort without being profitable. Saving time by automating returns can free up time for more important things, such as strategizing and growing your store. With logistics software, you can track if items are damaged and put them back in your inventory quickly.
Lastly, you can link other software tools to your fulfillment program. For example, your shipping software and ecommerce software can integrate with your WMS. This makes processing, picking and shipping orders from your online store even more streamlined. For example, you can automate the creation and printing of address labels for even faster packing and shipping.
Looking to outsource your fulfillment and to offer next day delivery in Europe? Active Ants, Huboo.com and SaleSupply.com are fulfillment partners with multiple European warehouse locations.
Cost of stock management tools
The price of your inventory management software should not be a deciding factor, but is important nonetheless. Most Warehouse Management Systems will have a subscription model with a monthly fee. If you have one storage location and a small online store, a basic WMS can cost between a couple dozen and 100 euros per user per month. Do you own multiple warehouses or do you want more options? Then your WMS can be more costly.
A basic WMS can cost up to 100 euros per month.
Remember that the year of purchasing your WMS will be the most expensive. It takes time to implement the software into your business. You may have to train your warehouse employees and purchase hand scanners that are linked to the system, for instance. On the other hand, automating your warehouse management will save time and money in the long run.
How to choose a software supplier
So, how do you choose which WMS software fits your online store? There are a couple of things to keep in mind when looking for the right warehousing tool. First of all, look into the software you are already using. After all, you want to make sure your WMS is able to integrate with your existing platforms. This is also a good moment to review your existing programs before adding a new one. Moreover, consider a cloud-based WMS so that your inventory data is always up to date and accessible from multiple locations.
Make sure your WMS can link with existing software.
Furthermore, consider the type of ecommerce business you have. For instance: is your warehouse filled with the same product in different variations or do you have many product categories? Do you have one warehouse or multiple locations that need to share and exchange data? Perhaps you have to manage crossborder orders and returns? These are all things to keep in mind when looking for the right software partner.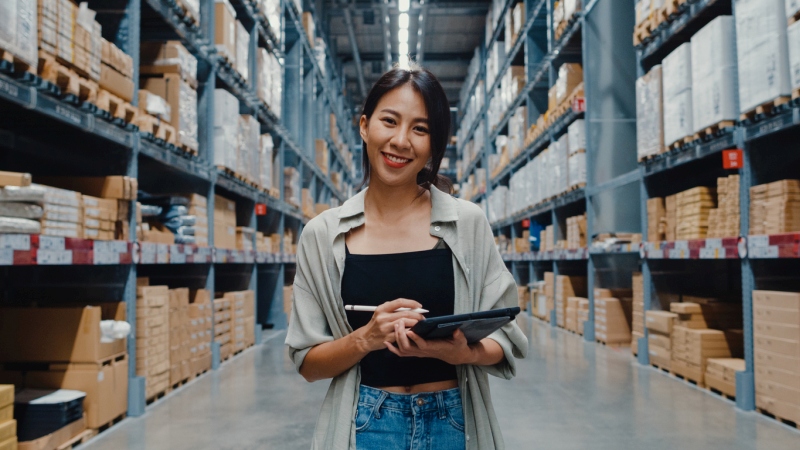 Lastly, think about what type of data and analytics will be valuable for your fulfillment operations. You can choose the most detailed warehouse management systems in the world, but if you rarely use the functionalities, a warehousing tool will not be worth it. At the very least, make sure your warehouse system has insight into the accuracy of your order picking, timely delivery and inventory.
Outsource fulfillment with a logistics partner
As an online retailer, you may have considered outsourcing your fulfilment altogether. In this case, a third party takes care of storage and shipping. Of course you can manage your own warehouse, but this becomes very time-consuming as your shop continues to grow. For example, you may have to rent additional storage space and hire employees to help you. If you do not want to invest in your own logistics, you can outsource with one of many ecommerce logistics companies in Europe.
A fulfillment company often has its own WMS software that you can use. Because logistics partners specialize in optimizing your fulfillment, these tools have a lot of functionalities such as inventory forecasting. Before buying your own warehousing software, you may want to consider outsourcing your logistics in one fell swoop.