Wholesale ecommerce
Do you want to launch an online store? Then you'll need products to sell. If you want to buy stock in bulk and quickly fill your store, you can buy these products at a wholesale distributor. But where do you find wholesale ecommerce suppliers? And how do you get a wholesaler in Europe to sell their products to you?
Content:
What is wholesale ecommerce?
Wholesale ecommerce is the online sale of goods to anyone other than an end consumer. These goods are bought for resale. In other words: if you are buying products in bulk from a middleman, who gets the items from the manufacturer, you're operating in wholesale ecommerce.
The middleman in this supply process is called the wholesaler or wholesale distributor. They are the ones buying goods in bulk from a manufacturer. They store their products in a warehouse and then ship them to retailers (or to end-customers if they offer dropshipping) through a distribution center.

Do you want to start dropshipping, but are you still looking for good ecommerce software? Shopify offers plugins which are optimized for running a dropshipping online store.
Popular European wholesale suppliers
Finding European wholesalers online can be hard because they don't always promote themselves. Goods may come with a higher price, but buying from a wholesaler in Europe means fast delivery. Deliveries will be faster than when you buy from a wholesaler in China. Here are some wholesale ecommerce platforms you might want to buy stock from:
European wholesalers
European wholesale businesses often operate in local countries but there are some larger cross-border wholesale ecommerce platforms as well.

Orderchamp
Orderchamp is a European wholesale platform that brings independent retailers and brands together. It offers low minimum order values and free shipping on a purchase of 250 euro or higher. Big retailers use the platform to shop for complementary items, but small boutiques and concept stores can easily source their whole inventory here.
B2B GRIFFATI
The Italian wholesaler B2B GRIFFATI offers several designer brands, including some exclusive fashion brands from Europe, at wholesale prices with reasonable terms. With the dropshipping-plugin of Sync2Fashion you can easily add the products into your Shopify-store on, without the need for a warehouse or logistic management.
SaleHoo
This platform has an online database of more than 8.000 suppliers worldwide. It claims to verify each seller and provides a full guarantee on your purchase in case of damage or fraud. There are more than 1.6 million products in 75 categories available. You'll need to create an account and pay 67 dollars to get access to the database.
Ankorstore
Ankorstore is a French b2b marketplace that connects brands and creators with online retailers all over Europe. The b2b ecommerce platform is active in Germany, Belgium and Spain. It has a customer base of 15 thousand brands and 200 thousand retailers.
Faire
The wholesale ecommerce platform Faire contains over 60.000 independent brands and wholesalers from North America and Europe. Both small and large online retailers can go here to enlarge their product range.
Do you want to start dropshipping, but are you still looking for good ecommerce software? Shopify offers plugins which are optimized for running a dropshipping online store.
Dropshipping companies
With dropshipping, the wholesaler sends a parcel directly to your customer. You don't need a warehouse with stock or any supplies yourself and there is no need to buy in large quantities. Margins are often a bit lower and delivery times might be longer, but still ideal if your starting budgets are low or to test which new products you should add to your product range. Here are some dropshipping suppliers:

dropshippingXL
dropshippingXL offers 90,000+ vidaXL products to add to your online store or marketplace account. vidaXL is known for its very extensive furniture and home & garden categories, but also supplies products from many other categories. It offers fast delivery in Europe and integrations with Lightspeed, Magento and WooCommerce.
BigBuy
The Spanish dropshipping supplier BigBuy has more than 150.000 products and is able to dropship all over Europe. Product categories range from home and garden, beauty and health, sports, toys, fashion, and electronics. Next to buying products for wholesale prices per product, dropshippers can become a subscriber at BigBuy for extra benefits. With their Marketplace package, you can easily sell their products on marketplaces.
Spocket
Spocket is a platform for European and American dropshipping suppliers. There are thousands of products listed on the platform, from clothing to beauty products and more. It has a higher price range and shipping costs than AliExpress dropshipping. The platform offers integrations with Shopify, BigCommerce, Wix and WooCommerce.
Print-on-demand companies
Print-on-demand companies work in a similar way as dropshipping companies. But instead of premade products you can print your own designs on products and design your own product range. A few years ago you could only print a limited range of products but printing on demand is expanding to new areas fast.

Printful
If you are interested in selling whitelabel products with prints of your own design, Printful might be a suitable dropship supplier. The company works on a print-on-demand basis. They can print your designs on clothing, as well as bags, mugs and phone covers. In Europe, the company is situated in Latvia and Spain, which makes shipping within two to four days possible. There are integrations available with Shopify, Magento, WooCommerce, Wix, BigCommerce and Prestashop. It also offers integrations with marketplaces like Amazon, eBay and Wish.
Printify
Printify is similar to Printful. It is a fast-growing transparent print-on-demand network, instantly connecting merchants to major Print Providers worldwide. This allows them to sell custom printed products that are printed and shipped directly to the customer.
Spreadshirt
Spreadshirt is similar to the other print on demand suppliers, but it's also aimed at private customers. The company, founded in Germany, offers businesses mass-customization tools, on-demand production, and fulfillment as a service.
Asian wholesalers
Asian, and especially Chinese b2b platforms, have the benefit that their prices are usually good and their product range is unlimited. However, not all products are in high demand in Europe, and delivery might take some time. In case you want to do business with an Asian wholesaler make sure you take your time for your selection of products and suppliers you want to do business with.

Alibaba
Alibaba is the most well-known b2b marketplace from China. Here you can find all kinds of products, from clothing to toys and from car parts to gadgets. Finding suppliers on Alibaba can be tricky, so be prepared. Alibaba also owns the popular b2c marketplace AliExpress.
Banggood
Banggood is another popular b2b marketplace from China. Its partnership program include wholesale, affiliate, and dropshipping. With the Banggood Wholesale program, buyers can enjoy a higher discount on their wholesale orders.
DHgate.com
DHgate.com was founded in 2004 and was one of China's first cross-border b2b-ecommerce platforms. It links primarily Chinese SMEs to businesses and individuals worldwide.
How do you find a wholesaler in Europe?
It can be quite hard to find wholesale distributors and suppliers online. That's because most of them aren't really promoting themselves online. More often than not they don't have a website. Additionally, wholesale ecommerce websites are often basic or outdated. But they are key if you want to find products to sell online.
Most wholesale distributors have websites that are very basic or outdated.
Visit trade shows, fairs, and events
An opportunity to find a distributor is to visit business-to-business trade shows, fairs, and events that are organized for players in your industry.
Visiting events is a great opportunity to learn new trends.
For example, if you want to sell home decoration and interior design products, there are probably several events taking place in your country where you can get to know wholesalers and manufacturers. At the same time, visiting such events is a great opportunity to stay up-to-date with the latest trends.
Look for suppliers in China
Another interesting option, one that has gained in popularity in recent years, is looking for a wholesale business in China. Through popular online platforms such as Alibaba you can find many companies that are willing to do business with European ecommerce companies.
Do a reverse image search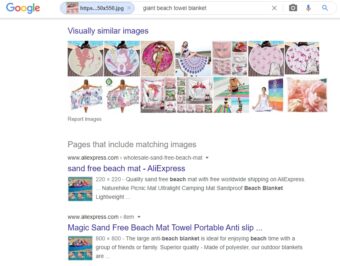 Have you found something interesting at a competing website? Try to do a 'reverse image search' on the product photo. You can do this in Google, but also through websites like Tineye or Yandex (in our opinion, the last one is very underrated and unknown when it comes to reverse image searches!). In the results, you might end up with a seller page on Alibaba, which you can contact immediately to check if they want to sell to you!
Try a reverse image search for products you like.
Finding a distributor on Alibaba
As we said earlier, one of the most important and popular platforms for finding a wholesale distributor is Alibaba. This Chinese marketplace is filled with suppliers who can help you start your business. The only thing you need to do is search for the products you want to sell and get in contact with a supplier. But how do you find the right one? The one who has years of experience, who knows the local rules and restrictions and who is assessed, certified and/or inspected? Read our page on finding suppliers on Alibaba to learn how to find the best wholesale distributor on Alibaba.
Alibaba is so popular, it's filled with hundreds of thousands of b2b sellers. Read our guide for finding suppliers on Alibaba to learn how you can find your distributor!
Things you should know about distributors
Most wholesalers prefer to sell stock in bulk, so chances are they might not be interested in you if you're still a small retailer with a small order request. But on Alibaba.com, for example, you can filter on a minimum order quantity. This way you'll only find suppliers that are willing to meet your order request.
If you contact a wholesale ecommerce website, tell them who you are, what kind of business you run and what it is you want from them. Ask them if they might be interested in selling to you. The more you can tell them about you and your company, the higher the chance that they want to do business.
'If a wholesale distributor is interested in selling to you, follow up with more questions.'
If a wholesale ecommerce site is interested, it's time to follow them up with some more questions. For example, you can ask them what the price per product will be if you order more of them at once. Do they have special offers for returning customers? Ask about the delivery time, the available colors, payment terms and maybe even to which customers they are selling this product as well.
Typical terms of a supplier
So, a wholesale distributor is the company you need to contact if you want to buy certain products. But finding one doesn't necessarily mean you have found a source for the products in your store. That's because wholesale suppliers don't do business with just everyone. This is especially true when you have just started your online store.
Some wholesalers don't want to sell to online retailers without offline stores. That's because they sell products they want to be visible in shopping malls or streets. If you don't have a brick-and-mortar store, these suppliers are just going to deny your request.
Some wholesale companies only sell to retailers who also have a physical outlet.
Other wholesalers only partner with online retailers that buy a minimum of 10,000 units. Don't get ahead or yourself when you think you find the perfect ecommerce wholesale distributor for your ecommerce business. Do your research and try to find out what type of retailers they normally do business with. Do they accept small online stores? Do they partner with pure online players? What is the minimum you need to order?
Don't be surprised if you have to pay more
Also, don't be surprised if you need to pay a higher price than your competitors. Or if you can only do business with wholesalers under rules that are stricter than the ones they apply for your competitors. If that's the case, it could be because they are more familiar with your competitor. They know that company for quite some time, the competitor is a reliable and loyal customer, so the risk they take is relatively low.
Your competitors once started out as small retailers as well.
But these things can change over time, of course. Don't forget that your competitors once started as a small retailer as well! Finding your first wholesale distributor can be hard, but once you're in, it might get easier to attract more suppliers or to expand your business with that first distributor.

Frequently Asked Questions
Here are some frequently asked questions about wholesale ecommerce:

What is wholesale?
Wholesale refers to the sale of products to a reselling party. So, if you are an online retailer, you can buy products from manufacturers and distributors and then sell these products to your customers. You are then conducting wholesale ecommerce.
How is wholesale different from dropshipping?
Dropshipping is b2b-ecommerce as well, but there is an important difference. With wholesale, you normally buy the items you want to sell. With dropshipping, another company (the dropshipper) is taking care of the storage of products and the fulfilment (getting the items to your customers). You only pay for the items customers have ordered in this way of doing business.
A wholesale platform will supply your store with goods, but you will be the one sending them to your customers.
Why is Alibaba so popular?
Alibaba is the most popular wholesale ecommerce platform in the world. It's part of Alibaba Group, which can be seen as the 'Amazon of China'. Alibaba was founded in 1999 and managed to grow significantly due to its local success and the launch of additional services and online branches. Nowadays, Alibaba is known for its wide assortment and low prices. We have made a guide for finding Alibaba suppliers.
It's a popular wholesale ecommerce platform because of the large amount of suppliers that are listed there, for low prices. However, there are also other ecommerce platforms that offer plugins to find suppliers.