Ecommerce in Italy
Italy is the third largest economy in Europe. It is also the largest market for luxury goods in Europe, which may not come as a surprise, with Italian brands like Armani, Versace, Prada and Gucci. Here is what you need to know about ecommerce in Italy:
| COUNTRY STATISTICS | ITALY |
| --- | --- |
| Population | 59,55 million (2020) |
| Internet users (% of population) | 82% (2021) |
| Online sales | €75.9 billion (2022) |
| Online stores worth mentioning: | Yoox, IBS, Saldiprivati |
Content:
Ecommerce events in Italy
Every year there are several ecommerce events that take place in Italy. We have a handy ecommerce events calendar, where you can find all the major online retail events in Europe.
Looking for ecommerce software to start selling in Europe? Webador and Shopify are platforms that are well optimized for cross-border ecommerce.
Ecommerce customers in Italy
In Italy, around 80 percent of the population are internet users, which is on the lower end compared to the rest of Europe. More than half of internet-using Italians (59 percent) are online shoppers. Over 50 percent has purchased something online at least once in three months' time, according to the Europe E-commerce Report 2022. Around 2.26 percent of GDP is spent by Italians on online consumer goods, according to a report in 2023. This is lower than the global average of 3.53 percent.
Fashion is the largest product category in Italy.
Most online shoppers in Italy buy from multichannel retailers. In 2020, over 20 percent of Italian consumers used an app or website to purchase from brick-and-mortar retailers, Statista reports. Combining offline and online shopping is most popular for the product categories fashion and beauty.
In Italy, fashion remains the most popular product category by ecommerce revenue share. In 2021, fashion accounted for over one fifth of online sales.
Devices and payment methods in Italy
In Italy, mobile ecommerce is growing and racks up 7 billion euros of sales, mostly from young adults aged 35 to 44. Although internet infrastructure is not the best in Europe, Italians have a mobile penetration rate of 68.5 percent. This is also why over a third of Italian online orders are made on mobile, JP Morgan reports.
A third of online purchases are made on phones.
In Italy, card is the most popular online payment method representing more than 33 percent of transactions. E-wallets take a close second place with 32 percent. Although cards have a higher transaction value, e-wallets are used more often in Italy, especially for lower-value orders.
A popular payment provider is Jiffy, which currently has more than 5 million users. The service link an IBAN bank account code to a phone number.
The ecommerce market in Italy
Italy is one of the fastest growing ecommerce markets in Western Europe. According to the Ecommerce in Italy 2023 report from Casaleggio Associati, the total ecommerce turnover in Italy is estimated to have been worth 75.89 billion euros in 2022.
Italy is the fastest growing ecommerce market in Europe.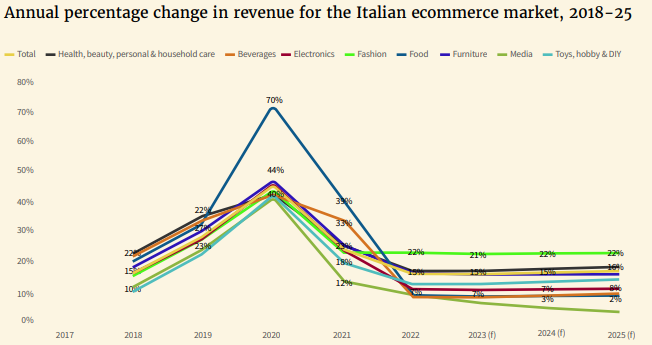 Do you want to sell cross-border in Europe? It ain't easy but with the right ecommerce software, online marketing channels and European fulfillment companies market leadership is surely possible.
Leading online stores in Italy
When ranked by unique visitors per months, Amazon eBay, Zalando, Mediaworld, Ikea, and UniEuro. Another very popular ecommerce website is Yoox.

Read all our articles about ecommerce in Italy.