Ecommerce in Switzerland
Switzerland is a very interesting country in Europe. For example, it hasn't been in a state of war internationally since 1815, and it also didn't join the United Nations until 2002. And also quite noticeable: it's a founding member of the European Free Trade Association and part of the Schengen Area, but it's not a member of the European Union, nor the European Economic Area. So Switzerland is obviously creating its own path in Europe, while not ignoring the global or European events.
Looking for ecommerce software to start selling in Europe? Lightspeed and Shopify are all platforms that are well optimized for cross-border ecommerce.
Content:
Ecommerce customers in Switzerland
Switzerland has quite a high Internet penetration, with 95 percent of the population between 16 and 65 regularly using the internet, and 90 percent of them having shopped online at least once. More males than females use smartphones and tablets for online services in Switzerland: 69% versus 61%. Another study suggests that 55% of the Swiss surveyed is a smartphone user of which 9% uses this device weekly for online shopping. A study by Netcomm Suisse in 2016 shows that the Swiss are only second to the UK in Europe for the amount they spend online each year. Swiss consumers spend €2,149 online annually. The most popular product categories are clothes, transport, books, tickets/reservations and holiday.
PAYMENT METHODS – When you run an online store in Switzerland, make sure you offer, at least, credit card and invoice. Each payment option respectively attracts one-third of all Swiss consumers. Only 13 percent of Swiss shoppers prefer to use e-wallets such as PayPal. And the debit card is used by only 7 percent.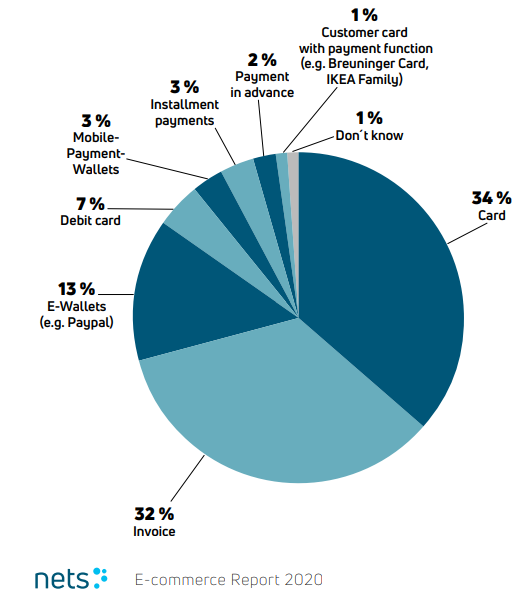 The ecommerce market in Switzerland
Swiss consumers have spent 8.4 billion euros on products and services online in 2015. This is a growth of over 13 percent compared to 2014. Approximately 40 percent of the ecommerce market consists of the online sale of products, while the other 60 percent is based on services. Switzerland is also one of the top three markets in Europe for cross-border purchases, with 61 percent of online purchases being dedicated to cross-border purchases. A study from 2021 shows that the value of goods sold online in 2020 was worth 12.2 billion euros.
Do you want to sell cross-border in Europe? It ain't easy but with the right ecommerce software, online marketing channels and European fulfillment companies market leadership is surely possible.
In 2017, Asendia published a report about Swiss ecommerce, in which it was noted that smartphones are now being used by 75 percent of the Swiss population,  up 50 percent in two years, and 37 percent of those who don't have a device expect to get one in the next 12 months. They are already used by 68 percent of online shoppers.
In 2021, Switzerland ended in first place in the annual ecommerce index of UNCTAD, which ranks countries on their readiness to engage in ecommerce.

Big online stores in Switzerland
The top 100 online shops in Switzerland generated 3.4 billion euros in 2013. Currently, online store Digitec.ch is the biggest online store in Switzerland (€661 million euros in sales in 2016). Other popular online stores in Switzerland are Amazon.de, Nespresso.com/ch, Zalando.ch and LeShop.ch. Also Brack.ch, Coop, Microspot.ch, Nettoshop.ch and Exlibris are in the top 10 of online Swiss stores. The top 10 of popular online stores in Switzerland, according to Y&R Group Switzerland: Ebookers, Nespresso, Digitec, Ex Libris, iTunes, Amazon, Ticketcorner, Zalando, SBB, Ricardo.
Read all our articles about ecommerce in Switzerland.
Last update: May 2021